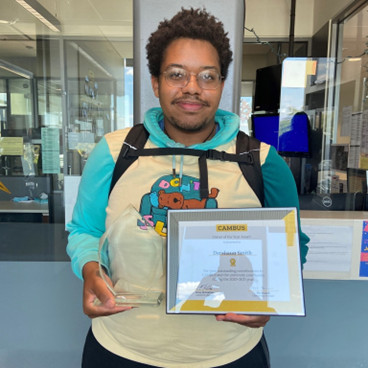 Darshaun Smith is double majoring in Sociology and Criminology and in African American Studies. Over the past four years, Darshaun has made an indelible impression on the department.  A driven student committed to studying and addressing social inequality, Darshaun's positivity is contagious. You may have seen him glide down campus roads on his electric skateboard or been surprised by one of his hopeful messages on classroom whiteboards.
In addition to multiple academic recognitions and awards, Darshaun has a wide array of talents. He is a musician, photographer, and podcaster of the "The Positivity Hour", who often integrates academic topics and guests with his podcasting. Darshaun plays a leadership role in the university's Marching Band, including being named the band's liaison to university president, Barbara J. Wilson, in August 2022. Darshaun has also played in the university's Pep Band and travelled with them to attend the historic Final Four women's basketball games in Dallas.
Darshaun's diligence in all his efforts has also been recognized as the Bionic Supervisor at CAMBUS, where he has worked all four years of college and won "Driver of the Year" in 2021. After winning the CAMBUS "Roadeo" two years straight, this summer Darshaun hopes to compete in the statewide Bus Roadeo for the first time. After graduation, Darshaun will do social media work for UI's Marching Band and explore options for graduate school.