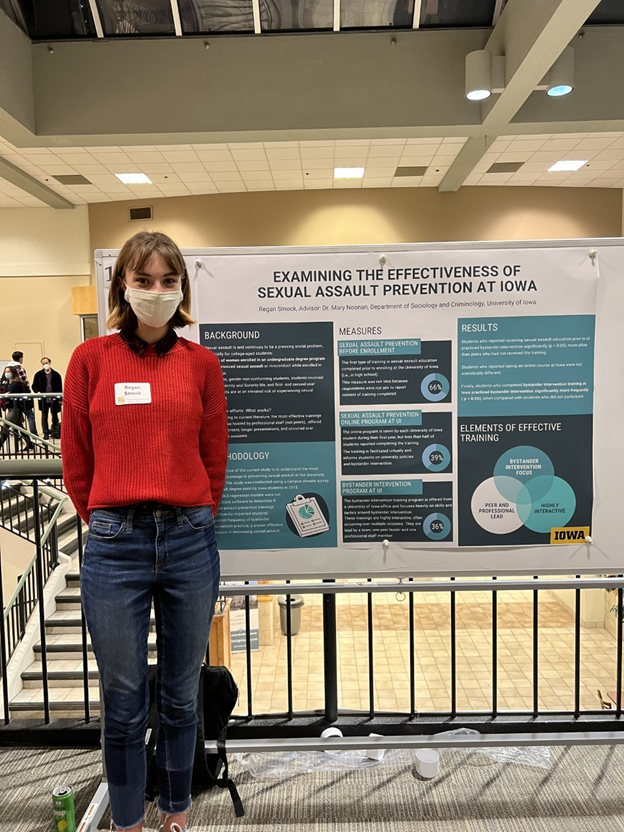 Students in our undergraduate programs have opportunities to learn research design and statistical techniques, and some of our best students use these tools in independent research projects. Regan Smock is a senior studying Sociology and Spanish, who came to us from Coggon, IA. Regan conducted research to assess the effectiveness of sexual assault prevention at the University of Iowa using data collected from a survey given to University of Iowa students in 2015. The survey asked about the kinds of sexual assault prevention training that students had taken, both before enrolling at the University of Iowa and since they arrived. It specifically asked whether students had taken the Bystander Intervention training offered here at the UI. The survey also asked about effective behaviors that students might have practiced to prevent sexual assault. For example, one question asked students whether they had ever walked a friend who had too much to drink home. By comparing student reports of effective prevention behavior with the sexual assault training they had taken, Regan tried to see how effective their training had been.
Regan used a statistical technique called linear regression to assess which trainings had a significant impact on students' reported bystander intervention behaviors, like walking a friend home after a night out. The analysis showed that students who completed the Bystander Intervention program at the University of Iowa were more likely to intervene to help others after witnessing a person in trouble than were students who had not completed the training. That difference was statistically significant, which means that it is likely a real result rather than a random difference between individuals. Because of Regan Smock's research, we now have scientific evidence that the Bystander Intervention training works.
Outside of the classroom, Regan is involved with Undergraduate Student Government and works in the Department of Sociology and Criminology as a Research Assistant. Regan enjoys hiking, crocheting, and spending time with her cat, Mochi. She plans to pursue a Ph.D. in sociology after graduation.